Antiqued brass Horse
15" high x 11.5" wide
6.75 pounds
$69
This antiqued all brass rendition of a stallion with it's
Chagall style facial features will add interest
to any decor. Made in India.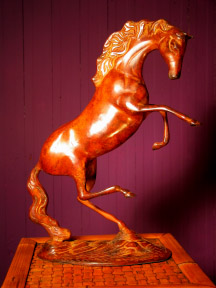 back to featured items
Greenlantern.net
(with navigation bar if you have reached this page as a search result)
All images and content on this site are the sole property of Green Lantern Frame Shop. Unauthorized use without written permission is forbidden.