The Artist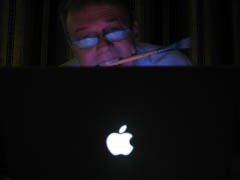 I am originally from Flintstone, Georgia...a small town at the foot of Lookout Mountain near Chattanooga, Tennessee. When I was a kid, my parents enrolled
me in a children's art class at Cadek Conservatory since they noticed I was spending a lot of time drawing stick men, airplanes and tanks etc...
Fast forward. Eventually I graduated with a BA from West Georgia College which is now The State University of West Georgia.
During that time I changed my major from bio-chem (Yawn) to studio art with an area of concentration in printmaking.
I studied painting under the instruction of Jennine Hough, Don Cooper and printmaking under Derrill Maxwell.
Since I rarely exhibit and struggle to find time to paint, here are a few random things worth mentioning from the past.
Exhibits with Atlanta Artist Club in Buckhead and the Galleria, Avery Gallery, Mable House in Mableton, Georgia,
Off The Square in Carrollton, Georgia, The American Painters in Paris Exhibition at the C.I.P. in Paris, France.
Member of Atlanta Artist Club, Hunter Museum of Chattanooga, Carroll County Arts Alliance, The High Museum in Atlanta...
Brief comments:
My most successful works are the ones that don't get bogged down with too much structured planning. With representational, non representational abstract
and impressionist styles, I try to allow the painting to develop and evolve in a spontaneous fashion by getting the paint on the canvas quickly.
I enjoy working with color relationships since each color is influenced and somewhat altered by the surrounding colors. I like to paint when it feels
right as opposed to forcing myself to produce some product to sell. There are times when creativity flows and times it seems distant. Some paintings
take on a whole different direction as they develop. Some paintings I have put away for years and returned to with a totally new perspective. Minor changes
or additions to a painting can yield maximum results so it's hard to determine when a painting is finished. I don't like to think that I have a particular
style because trying to conform to a style may limit possible discoveries that otherwise might have been made.
My favorite artist is Claude Monet not only because of his freedom of expression but because he stuck with his belief in his painting style even though it was
against everything that was acceptable in the art world at that time. Through opposition and hardships he influenced and changed art forever.
He was rejected by the art critics in France but was a peoples favorite when his work was brought to the United States. He was also a master landscaper
and gardener. Anyone interested in art should read about his life and the contribution he made to the art world.
It is always interesting to find out what someone sees in an abstract painting. Some of my least favorite works that I have done, have been others favorites.
Everyone sees art differently. Abstract art can be like a mirror to the observers feelings or a faint reflection of the observers thoughts at that time.
Since I feel that any talent that I may have is God given I am simply thankful for the enjoyment it gives me and hopefully it gives to others.
Two of my goals are to appeal to those that don't ordinarily like abstract art and inspire those that do.
This site involved much more time and effort than I ever imagined. There are changes I will eventually make and finished work that is not on the site
but for now here it is. I regret that I don't have closeup detailed photos of most of the work but you can get an idea from the "Fresh Paint, Hot Off The Easel" link.
Check back from time to time as I hope to find more time for painting. Thanks for dropping by.


Reproduction of any images, artwork, or material contained in this site is not allowed without the written consent of the artist.
Lobby / Art on wall / New works /Area 1 / Area 2 / Area 3 / Area 4 / Area 5 / Area 6 / Area 7 / The Office / The Artist

Tommysmith.com
(with navigation bar if you have reached this page as a search result)