Tommy Smith, Georgia visual artist, self-representing, abstract, impressionism, abstract expressionism, acrylic paintings, Gicle'es
Welcome to the lobby of the artist's on line studio.
A collection of art, original paintings, prints and photography by the artist Tommy Smith.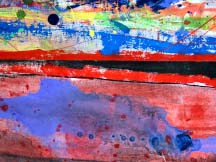 Fresh Paint
Hot off the easel!
Click this link to view the very latest works.




Click this link for more new works
Some original artwork is for sale. Signed giclées and signed open edition digital reproductions
in various sizes and price ranges are listed. Prices are subject to change and availability.
Use the navigation bar to the left to enter different areas and see the various art groupings.
If the navigation bar on the left is not visible, click the designated link near the bottom of this page.


Take a tour of "art on wall" by clicking this link.
The art on wall link will take you to some framed pieces in environmental settings.
The "area" links in the navigation bar will take you to groupings containing small thumbnail images.
Click the individual thumbnails, within each grouping, to get a closer view
and information about the artwork in a new window.
Close the closeup window to return to the current area grouping you are in.
Or if you want,you can leave the closeup window open, open others and view them side by side...
Larger images are formatted in progressive JPEG for dial up viewers but be patient.
Please visit the office if you would like any further information.
Take your time, stay as long as you like and come back often. Who knows what might evolve.
This site is best viewed using Internet Explorer (frames active) on a Mac. If you have a browser that doesn't
support frames/framesets, you can use the navigation bar at the very bottom of this page and your back button.
Reproduction or use of any images, artwork, or material contained in this site is not allowed without the written consent of the artist and if violated, will be prosecuted to the fullest extent of the law. Furthermore, purchase of artwork does not transfer these rights to the purchaser.
Tommysmith.com
(with navigation bar if you have reached this page as a search result or bookmark)
To go to the Green Lantern Frame Shop site, click here.


Lobby / Art on wall / New works /Area 1 / Area 2 / Area 3 / Area 4 / Area 5 / Area 6 / Area 7 / The Office / The Artist