Behind the scenes
We're not the biggest, but we try to be the best. Much of the work is done in plain view within our 2,200 square foot first floor area, however there is a lot that goes on behind the scene. Most of the messy stuff is done on the second floor where we have moulding, storage, chopper, joiners, and saws. Aaah, the smell of sawdust in the morning! When possible we try to stock the moulding and cut it here. That gives us more control of slight milling and color differences. Machinery is maintained in order to achieve a true angle and clean cut. Correct cutting, gluing and joining are important to the strength of the frame.
Our dry mount facilities are at the rear of the first floor where we can dry mount up to a 48x96 poster, etc... The hard part is getting it out the door!
Nearby is the office, on a mezzanine level, just above the fitting tables. Work flow is another hidden function that is important in assuring good service. Poor processing can waste time trying to find misplaced work orders, not knowing what's been done, wasting materials, etc... O.K. Sometimes it can get a little chaotic but we mostly stick with a set work flow plan. The use of well designed order forms, locater bins, materials lists, and set procedures ensure that the operation runs smoothly. We have analyzed and fine tuned these steps over the years...since 1968.
This is a view of the matting, glazing, and fitting area at the rear of the showroom.
See more by clicking the links under each image.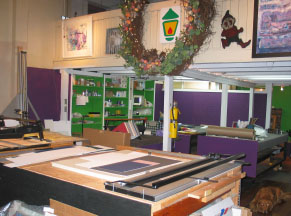 Click here
to see more.
All images and content on this site are the sole property of Green Lantern Frame Shop. Unauthorized use without written permission is forbidden.
Home Page / Virtual visit / What needs framing? / Behind the scenes / Featured item(s) / Econo framer / What we do /
Choosing a frame / Framing myths / Location,location... / Frame story / Contact us / Art by Tommy Smith
Greenlantern.net
(with navigation bar if you have reached this page as a search result)