The econo framer
For those of you that are real bargain hunters, and who's kiddin who, all of us are at certain times... we do offer alternatives to a complete custom job. That is, we can do any or all parts of the order. Just how adventurous are you? If you do your own paintings or needlework or have a lot of stuff to frame and a small budget, you may want to consider having us do a portion of the work. That could be anything from making just the frame to cutting mats or glass for frames you already have. Maybe you have a color photo that you want to have UV protective glass put on. We just ask that you make sure the sizes are correct. It's best to bring in what you have and let us measure for accuracy. Since we can't bear the sight of cuts and bruises, we don't have "do it yourself" facilities at our store.
Using ready made frames can save you money. We carry ready made frames, photo and portrait frames in many popular sizes such as
5x7, 8x10, 8 1/2x11, 11x14, 16x20, 18x24, 20x24, 24x30, 24x36 and more.
Oh yeah. We have some custom mouldings that offer substantial savings too! Sometimes we overstock or have discontinued lines.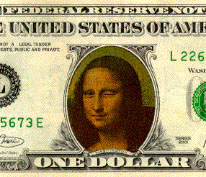 Use the navigation bar to the left to continue.
All images and content on this site are the sole property of Green Lantern Frame Shop. Unauthorized use without written permission is forbidden.
Home Page / Virtual visit / What needs framing? / Behind the scenes / Featured item(s) / Econo framer / What we do /
Choosing a frame / Framing myths / Location,location... / Frame story / Contact us / Art by Tommy Smith
Greenlantern.net
(with navigation bar if you have reached this page as a search result)